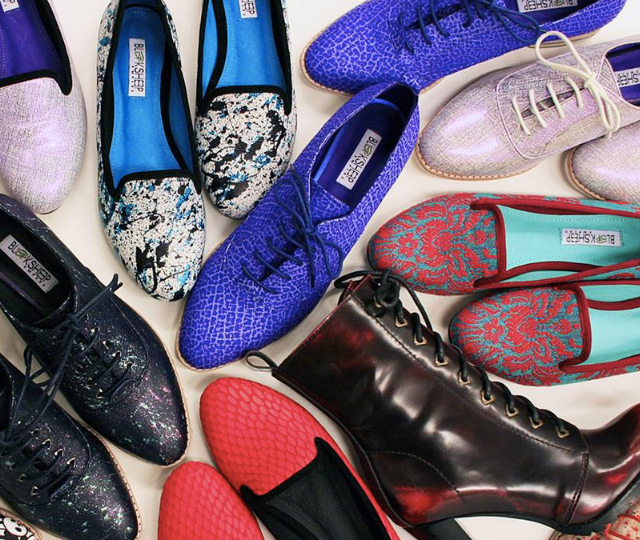 Vivid, bright and unmistakable uppers are the hallmark of Jennifer Webb's designs for Blksheep Empire; the company she founded after her shoe apprenticeship in Spain. Upon returning to Hong Kong, she chose to design a line of shoes that not only expresses personal style for her bold customers, but reflects the vibrant culture of her native Hong Kong.
Unique, handpicked designs and patterns adorn a mix of leather oxfords and textile flats for comfort that never compromises on style. We're so excited to share Blksheep Empire here at Coco Takumi and support Jennifer's vision!
What draws you to shoe design versus other product designing?
When you put on an awesome pair of shoes, it's like a confidence boost. I usually wear a lot of black clothing, so I love how shoes can be the highlight of the outfit. So at Blksheep Empire, you'll notice a lot of bright colours and bold patterns.
What was it like studying shoe-craft in Spain? What did you learn?
I worked at the shoe factory in Elche and learnt the progress from initial drawing to final production.
You create kickass shoes, for kickass women. What is your vision of a kickass woman?
A kickass woman is someone who has the confidence to be herself. Everyone is different, so just be comfortable in your own skin.
What are you looking for when you hand-pick leathers and fabrics for your shoes?
For leathers, I look for colours that are vibrant. And for patterns, I always select with clear graphic prints (I don't select anything that looks blurry). This coming season, our focus is on metallic colours like gold, rose gold and silver.
With these leathers, there are a few that are reflective, which is always fun when used for a pair of oxfords. I am not afraid to try new/crazy leathers and our customers enjoy seeing something that's not [already] in the market. They want a pair of shoes that stand out from the crowd.
How do you choose a print or texture? What speaks to you about one that you choose?
For some prints we have worked with Hong Kong graffiti artists. So they design a graphic and we print it onto the leather. This is a great way to collaborate with local artists and promote local talent. Again, we always ask the artist to create work that is bold and not blurry.
In terms of prints and texture in leather, the great thing about a leather having a texture is that it can hide dirt. So if your shoes get dirty on a patterned leather it's less noticeable.
What's a typical day like for you, working on Blksheep Empire?
Right now, we're working on a collaboration with a well known Japanese brand and the collection will be released in August. So we're pretty busy designing and creating new styles. It's been a massive learning curve as we are understanding how large companies work, etc.
When you're not working, what re-energizes you outside of the office?
The great thing about Hong Kong are the amazing hiking trails, so on the weekends I usually go on a hike. Hiking can really clear your mind especially when you live in a vibrant, fast-paced and crowded city like Hong Kong.
What is the driving force that gets you out of bed in the morning?
To be honest, I really love what I do, so I enjoy going to work. Even when things are tough, and things may not be going my way, I am always working towards goals. I think having goals written up in your mind keeps you motivated.
What does personal style mean to you?
An expression of yourself. There are no rules.